What's Next?
ONE WEEKEND ONLY
FRIDAY – SATURDAY, MARCH 10 – 11, 9PM
SUNDAY, MARCH 12, 2PM
Following Jake Budenz's Simaeatha, Emily Hall's DAD JOKES is the second Knee Play of the Annex Theater season. Emily Hall was most recently seen in Stupid Ghost at Annex Theater and directed the sold-out run of Cook/Thief/Wife/Lover for Annex in 2014.
Since 2013, Annex Theater has commissioned a yearly series of short-run, solo-driven performance pieces showcasing Annex Theater company artists and favorite regular collaborators. The Knee Play series champions works of personal artistic exploration and high-risk experimentation in a supportive environment. Previous artists featured include Trevor Wilhelms, Cricket Arrison, Dionna Fletcher, and Mason Ross.
This season features:
Jake Budenz
Emily Hall
Evan Moritz
Lucia Treasure
Great News!
Le Mondo is raising $60,000 to open its first venue and bar!
In 2013, a group of Baltimore artist-organizers (including Annex Theater's Founding Artistic Director, Evan Moritz) came together to address the growing issues of safe, affordable art space and to create a way to collectively empower each other and share resources. The result of those conversations was Le Mondo. They've built the dream of an artist-owned-and-driven performing arts complex from the ground up with the community's help from the beginning. Now, Le Mondo project is comprised of three historic buildings on Baltimore's Howard Street corridor that will include: two performance spaces for theater, music, and experimental work, a neighborhood bar, affordable artist studios and live/work apartments, rehearsal/workshop space, and a cafe.
Le Mondo is almost ready to open its first building, MONDO, at 404 – 406 North Howard Street – a flexible performance venue, neighborhood bar, and artist studios. They are raising $60,000 to open their doors to the public in Spring 2017. Not only is this a huge asset and model for the Baltimore arts community, but it will also be the future forever-home of Annex Theater. Help us empower ourselves and the Baltimore arts community through grassroots development and collective ownership. Donate here:

Let's Open Le Mondo! on Crowdrise
Master and Margarita named #4 in Top Ten Plays of 2016
Annex company member Jacob Budenz flirted with biting off more than he could chew by adapting and directing Mikhail Bulgakov's carnavalesque Soviet satire, in which the Devil and his entourage come to Moscow. That Budenz and Annex pulled it off—with a nearly three-hour running time to boot—is due to its budget visual extravagance and the performers in two pivotal roles. Autumn Breaud brought a serene vulnerability to the star-crossed Margarita, while Martin Kasey nearly walked away with the production as Woland, playing this devilish figure like a Paul Lynde exterminating angel, the kind of judge, jury, and executioner who makes a wittily fey comment right before burning everything to the ground. (City Paper)
We're having a swell year!
It's been a great year so far at Annex and we are very proud to share it with you! Annex Theater has received another slate of awards including Best Theater (Baltimore Magazine), Best Company, Best Play, and Best Character Actor (Baltimore City Paper) to company member Dave Iden who we are probably actively embarrassing for posting this right now. Thank you. Thank you. Your continued support keeps us doing seemingly impossible things.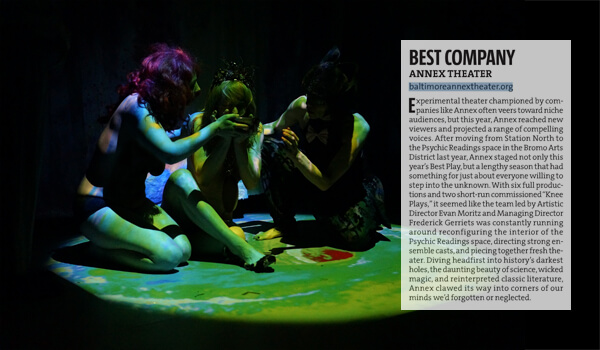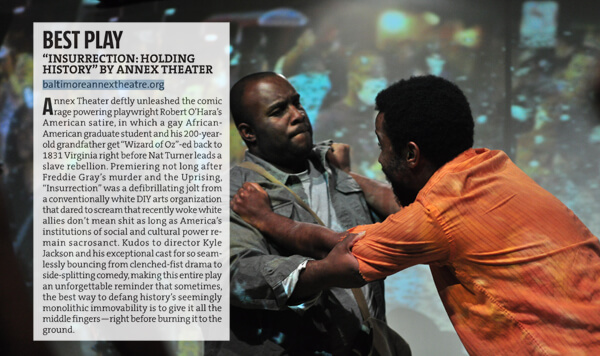 Support Radical, Experimental Performance in Baltimore
This year, we're kicking off our 8th season producing award-winning and critically-acclaimed bleeding edge, intimate theater. We've made some bold and exciting advancements this year and as we build and refine our organization, we're asking you to join us in making it happen.
Visit our donation page to learn more about how you can support Annex Theater