What's Next?
The King of Howard Street
May 18th – June 3rd
RUNNING 3 WEEKENDS ONLY
THURSDAYS – SATURDAYS, 8PM
Annex Theater at MONDO (406 NORTH HOWARD ST)
TICKETS:
$15 General | $7 Students/EBT card holders
Additional discounts available
Press release and photos – click here.

Baltimore Annex Theater closes their 2016-17 season with The King of Howard Street, an original play about the lives, dreams and deprivations of the formerly homeless writer and Housing Rights Advocate Anthony Williams.
The King of Howard Street tells the real-life story of Anthony Williams, an amazingly resilient and talented individual who lived in abandoned buildings up and down Howard Street for over 20 years. Several years ago, Williams – who is recently no longer homeless and a currently a housing rights advocate – began to chronicle his life story and the stories of the friends and family around him. A year ago, the Artistic Director of Annex Theatre, Evan Moritz, was approached outside of Annex Theater by Anthony and given three spiral-bound notebooks full of Anthony's fascinating real life story. Inspired by Anthony's story, Moritz commissioned playwright Ren Pepitone and director Roz Cauthen to bring this story to a wider audience.
The King of Howard Street tells a story of pain, heartache, poverty, and addiction – but also triumph and beauty – through a careful and beautiful blend of dance, music, and theater.
A SITE-SPECIFIC WORK
This new work is debuting on Howard Street at MONDO, a new artist-owned performance venue, studio space, and neighborhood bar opening up this 2017. MONDO is the first venue to be opened by Le Mondo. Created in 2014, Le Mondo is a grassroots, artist-owned-and-driven project creating a three building, multi-use community hub and experimental performance complex in downtown Baltimore.
FEATURING THE ANNEX THEATER DEBUTS OF
Joshua Dixon
Malcolm Anomnachi
Kristina Szilagyi
Christian Harris
Mari Travis
Martique Smith
Elaine Foster
AND
Desiree Butler (The Tempest)
Nathan Couser (Insurrection: Holding History)
Jonathan Jacobs (The Tempest, Flatland)
David Crandall (Macbeth, Ubik)
Great News!
Master and Margarita named #4 in Top Ten Plays of 2016
Annex company member Jacob Budenz flirted with biting off more than he could chew by adapting and directing Mikhail Bulgakov's carnavalesque Soviet satire, in which the Devil and his entourage come to Moscow. That Budenz and Annex pulled it off—with a nearly three-hour running time to boot—is due to its budget visual extravagance and the performers in two pivotal roles. Autumn Breaud brought a serene vulnerability to the star-crossed Margarita, while Martin Kasey nearly walked away with the production as Woland, playing this devilish figure like a Paul Lynde exterminating angel, the kind of judge, jury, and executioner who makes a wittily fey comment right before burning everything to the ground.
We're having a swell year!
It's been a great year so far at Annex and we are very proud to share it with you! Annex Theater has received another slate of awards including Best Theater (Baltimore Magazine), Best Company, Best Play, and Best Character Actor (Baltimore City Paper) to company member Dave Iden who we are probably actively embarrassing for posting this right now. Thank you. Thank you. Your continued support keeps us doing seemingly impossible things.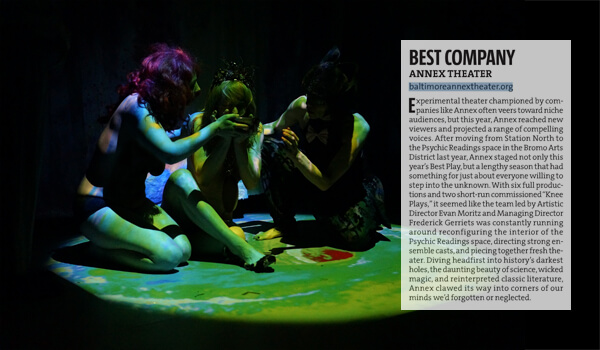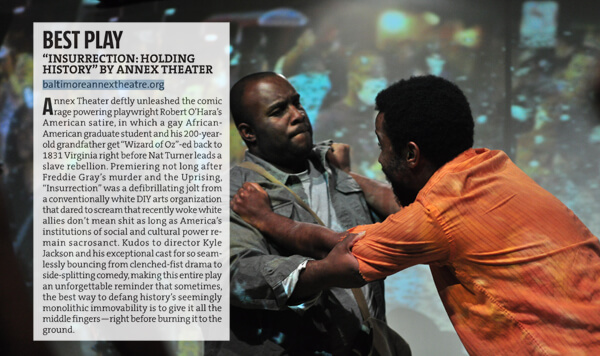 Support Radical, Experimental Performance in Baltimore
This year, we're kicking off our 8th season producing award-winning and critically-acclaimed bleeding edge, intimate theater. We've made some bold and exciting advancements this year and as we build and refine our organization, we're asking you to join us in making it happen.
Visit our donation page to learn more about how you can support Annex Theater