Welcome to The Internet.
Buy Tickets to Stupid Ghost:
September 22nd – October 16th

We're Open! Come celebrate!
SEPTEMBER 28 |  WEDNESDAY | 5PM – 8PM
Celebrate the opening of Stupid Ghost with The Annex at our first Fall happy hour.
Marie Louise Bistro has opened their upstairs bar to us, and will donate 20% their earnings for the night back to the theater! The Bistro is located in Mt. Vernon on 904 N. Charles Street
See you there…

STUPID GHOST RUNS 4 WEEKENDS
September 22 – October 16
Thursdays – Sundays, 8PM
$15 | $7 Students/EBT (with ID)
Directed By
Carly J Bales
Written By
Savannah Reich

STUPID GHOST is the first play of Annex Theater's 2016 – 2017 season.
The Ghost lived in the woods, Minding Her Own Business and definitely Not Haunting Anyone, until one day she saw a Pretty Girl and followed her home. It totally wasn't even a thing. The Girl was probably not even going to notice.
STUPID GHOST is a comedy about ruining the lives of the people you love.
Featuring
Danni Tsuboi
Emily Hall
Trevor Wilhelms*
Mike Smith
Kevin Griffin Moreno
*Annex company member
We're having a swell year!
It's been a great year so far at Annex and we are very proud to share it with you! Annex Theater has received another slate of awards including Best Theater (Baltimore Magazine), Best Company, Best Play, and Best Character Actor (Baltimore City Paper) to company member Dave Iden who we are probably actively embarrassing for posting this right now. Thank you. Thank you. Your continued support keeps us doing seemingly impossible things.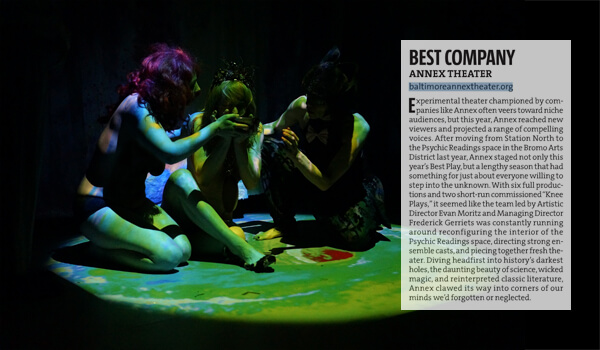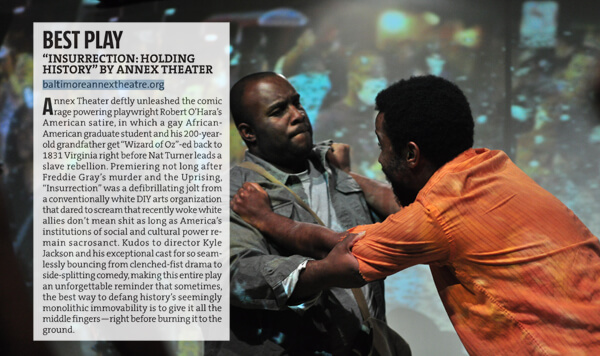 We have announced our 2016 – 2017 season!
This exciting season includes an eclectic array of new works and world premieres (The Shattering Frame, The King of Howard Street, Stupid Ghost), company-derived adaptations (1-800-MICE), and classics (The Tempest).
Support Radical, Experimental Performance in Baltimore
This year, we're kicking off our 8th season producing award-winning and critically-acclaimed bleeding edge, intimate theater. We've made some bold and exciting advancements this year and as we build and refine our organization, we're asking you to join us in making it happen.
Visit our donation page to learn more about how you can support Annex Theater