What's Next?
The Shattering Frame: A Bridgette Miakowsky Mystery
March 23 – April 16
The Annex Theater is beyond pleased to announce the premiere of its fourth play this 2016-2017 season, The Shattering Frame: A Bridgette Miakowsky Mystery written and directed by company member Trevor Wilhelms. The Shattering Frame opens March 23rd and runs through April 16th, Thursday through Sunday at 8pm.
When someone goes missing in her city, Bridgette Miakowsky is the one to find.
She used to find people for the Sheriff's Deputies, she used to have a family, but she's put that, and a lot more behind her. Now she's gone private and you can find her listing somewhere between the strip club ads and the obituaries.
A young Kid's sister goes missing in a rough part of the south-west sector of the city. People go missing all the time around here, but this kid is more than smart enough to find the office door of a semi-retired Miakowsky. In pursuing the sister's whereabouts strange associates, friends, and accomplices come forward to either help, or just feed them a line of hogwash.
Turns out they might just break a crack in this case wide enough for the whole city to see the truth.
Great News!
Master and Margarita named #4 in Top Ten Plays of 2016
Annex company member Jacob Budenz flirted with biting off more than he could chew by adapting and directing Mikhail Bulgakov's carnavalesque Soviet satire, in which the Devil and his entourage come to Moscow. That Budenz and Annex pulled it off—with a nearly three-hour running time to boot—is due to its budget visual extravagance and the performers in two pivotal roles. Autumn Breaud brought a serene vulnerability to the star-crossed Margarita, while Martin Kasey nearly walked away with the production as Woland, playing this devilish figure like a Paul Lynde exterminating angel, the kind of judge, jury, and executioner who makes a wittily fey comment right before burning everything to the ground.
We're having a swell year!
It's been a great year so far at Annex and we are very proud to share it with you! Annex Theater has received another slate of awards including Best Theater (Baltimore Magazine), Best Company, Best Play, and Best Character Actor (Baltimore City Paper) to company member Dave Iden who we are probably actively embarrassing for posting this right now. Thank you. Thank you. Your continued support keeps us doing seemingly impossible things.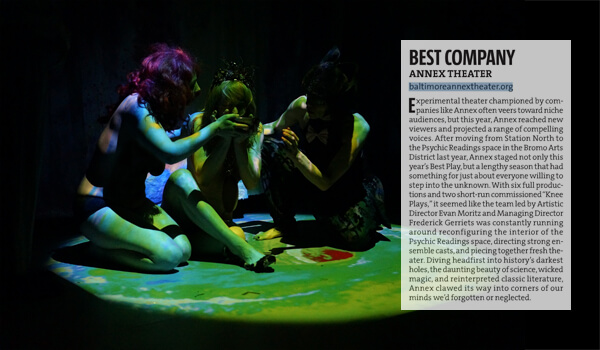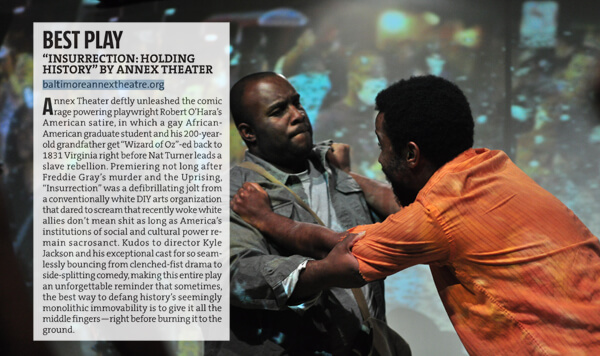 Support Radical, Experimental Performance in Baltimore
This year, we're kicking off our 8th season producing award-winning and critically-acclaimed bleeding edge, intimate theater. We've made some bold and exciting advancements this year and as we build and refine our organization, we're asking you to join us in making it happen.
Visit our donation page to learn more about how you can support Annex Theater