2016 - 2017 Season
STUPID GHOST
By Savannah Reich
World Premiere | Directed by Carly J. Bales*
September 22 - October 16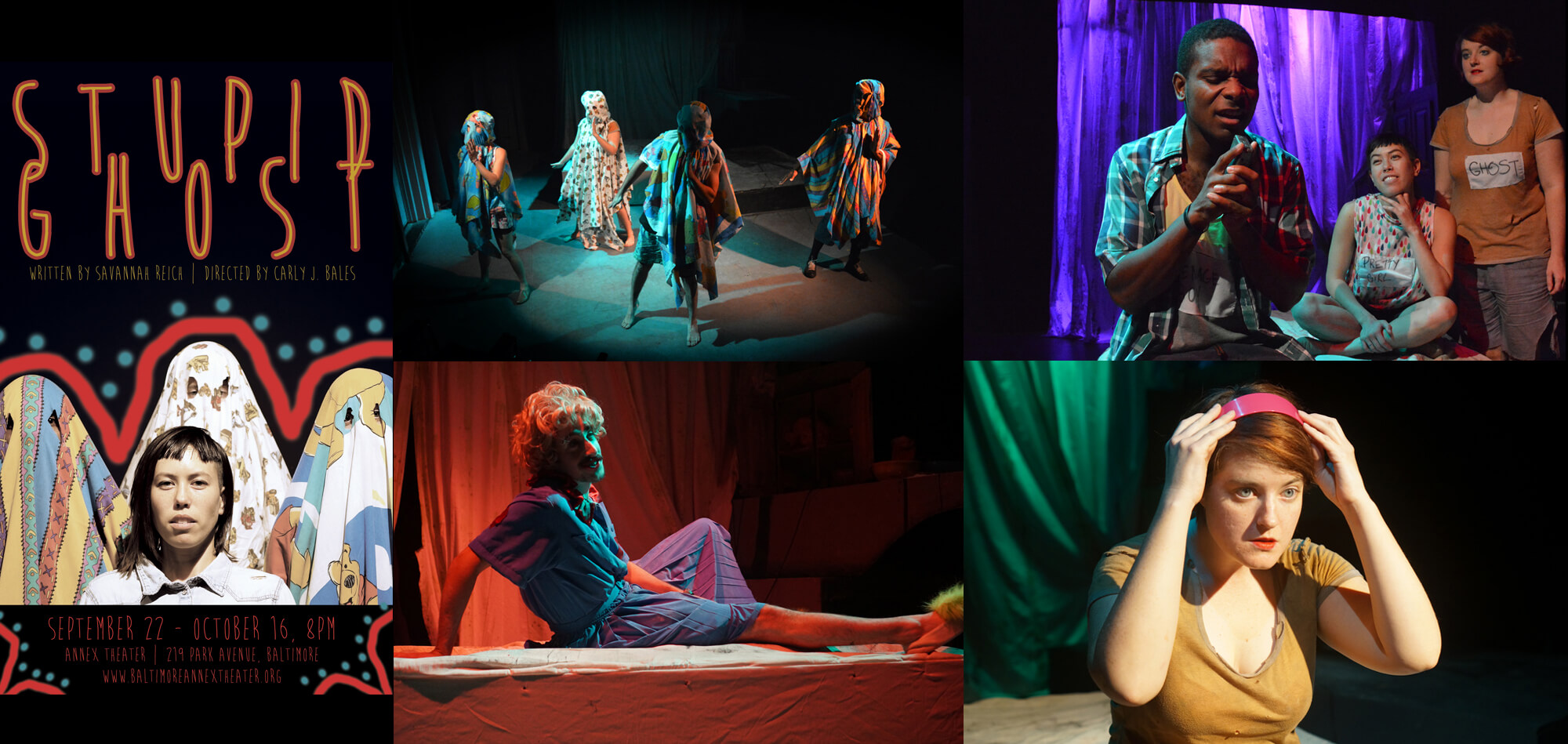 The Ghost lived in the woods, Minding Her Own Business and definitely Not Haunting Anyone, until one day she saw a Pretty Girl and followed her home. It totally wasn't even a thing. The Girl was probably not even going to notice.
STUPID GHOST is a dark comedy about ruining the lives of the people you love.
Featuring Danni Tsuboi, Emily Hall, Trevor Wilhelms*, Mike Smith, and Kevin Griffin Moreno
*Annex company member
1-800-MICE
By Sarah Jacklin* and Carly J. Bales*
Adapted from the comics of Matthew Thurber
World Premiere | Directed by Sarah Jacklin*
November 25 - December 18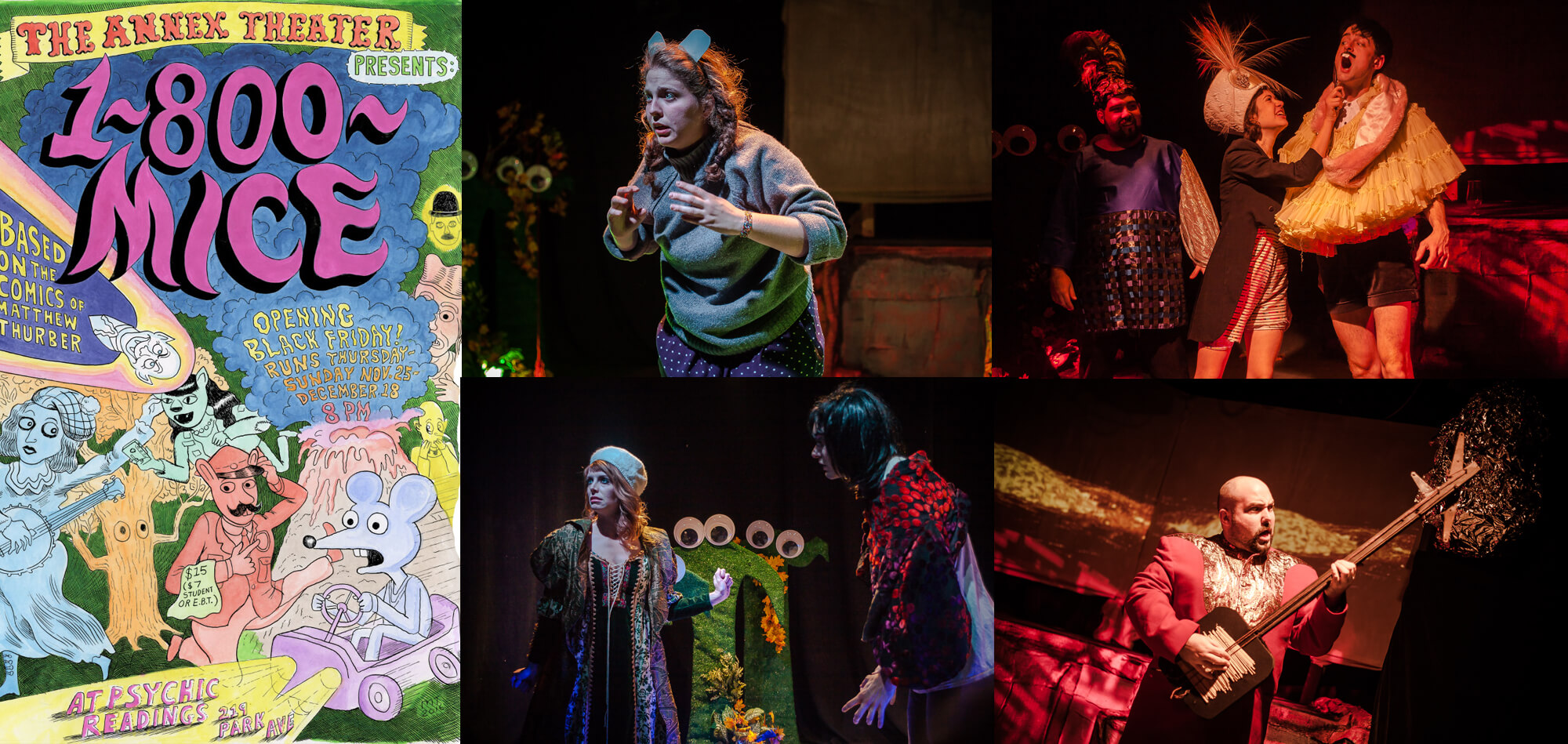 1-800-MICE is a sprawling and surreal soap opera concerning the fate of Volcano Park, a "seething interspecies metropolis" of the nearish-future populated by humans, evolved animals, and a ruling caste of sentient trees. Volcano Park is in peril - plagued by authoritarian cops, a violent gang of dandy criminals peddling designer drugs and mass oblivion, and a blossoming class-war that threatens to unravel the already-tenuous threads holding the city together. To make matters worse, a mysterious meteor is now racing toward earth.
We topple headfirst into a web of political intrigue and cultural warfare fueled by unhinged psyches, fetishistic eroticism, corporate paranoia, cyber saturation, and new age quackery led by a slew of villainous interests - Aunty Lakeford, The Great Partaker, and the LA Shogun, former bandmates competing for their immortalities and cultural dominance, and Doctor Vial, a cult leader and drug kingpin of the arboreal drug known as Creosote.
These megalomaniacs threaten to bring about the apocalypse of Volcano Park and existence as we know it. Can this diseased city be saved before its mass annihilation? Can anyone be saved?
Featuring Nina Kearin, Jacob Zabawa, Carly J. Bales*, Dave Iden*, Martin Kasey, Suzie Doogan, Alexander Scally, and Philip Rogers.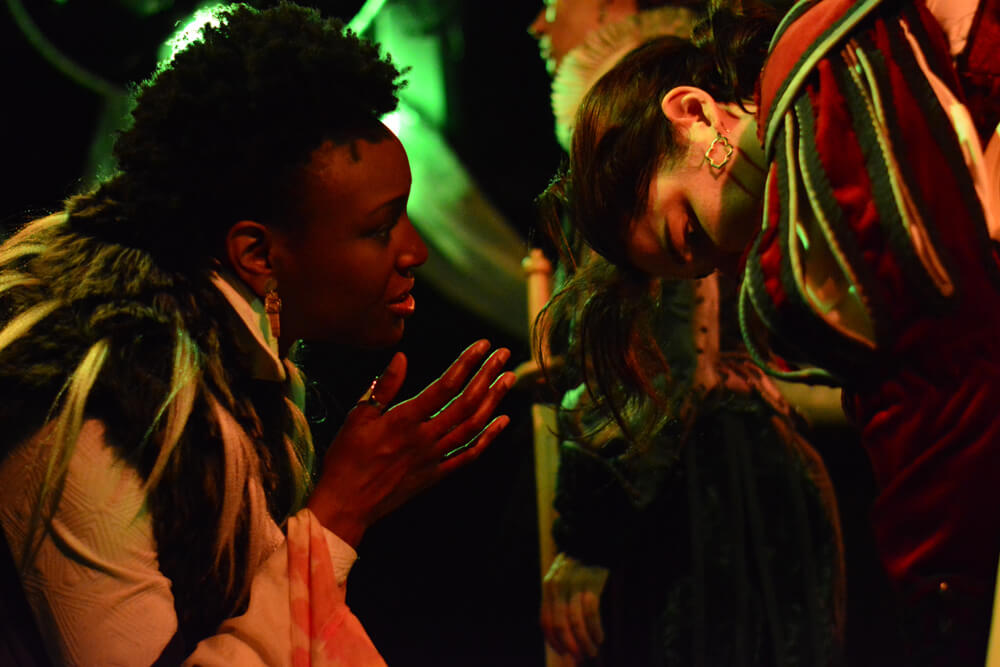 January 26 - February 19
Thursdays - Sundays at 8PM
THE TEMPEST
By William Shakespeare
Directed by Evan Moritz
The third play of our 2016 - 2017 season directed by our Founding Artistic Director, Evan Moritz.
Prospero - a sorcerer and former Duke of Milan - and their daughter Miranda have managed to survive and thrive on a remote island for twelve years after being exiled and left to die by Prospero's treacherous brother, Antonio. Prospero becomes obsessed with avenging their name and bringing their daughter to her rightful place in society. Conjuring a violent tempest on the waters, they are able to entrap a ship carrying Antonio and a court of Neapolitans. The ship wrecks on this island that rests between galaxies – somewhere between the rational waking world and the magic dream world. Inhabitants from both these worlds collide as Prospero is forced to confront their past life and conquer their deep-seated lust for vengeance.

Featuring Aladrian Wetzel, Mika Nakano, Jonathan Jacobs, Kathy Vary, June Keating, Molly Marguiles*, Carly J. Bales*, Betsey Lyons, Sarah Lamar*, Mike Ziccardi, and Desirae Bush. *Company Members
The audiences say:
"A perfect marriage of Annex Theater aesthetics and stellar Shakespeare performances"
"A beautiful piece of art… a much-needed dose of beauty"
"Unlike any [production of The Tempest] I've seen before"
"WOW!!! We saw The Tempest last week and we were BLOWN AWAY by the visionary directing and incredible cast. You did amazing work with a challenging script. We're still talking about it a week later. Can't wait to see more productions. Thanks for making top quality theater so affordable."
"The Tempest is my favorite Shakespeare play, and Evan Moritz and The Annex Theater's production of it is among the best I've seen. The sets and costumes are magical, it's funny as hell, and the cast is sublime."
THE SHATTERING FRAME: A BRIDGETTE MIAKOWSKY MYSTERY
Written and Directed by Trevor Wilhelms*
World Premiere
March 23 - April 16
The city was grey, and had been for months. A string of disappearances, all lower class youths, leads one young citizen, desperate to find their sister, into the office of former Missing Persons Deputy Bridgette Miakowski. The Shattering Frame, an original detective noir, will bound Miakowski's past and this young citizen's future together in a mystery that goes all the way to the top.
KNEE PLAY SERIES
Since 2013, Annex Theater has commissioned a yearly series of short-run, solo-driven performance pieces showcasing Annex Theater company artists and favorite regular collaborators. The Knee Play series champions works of personal artistic exploration and high-risk experimentation in a supportive environment. This season features:
Jake Budenz* - January 6th - 8th, 9PM
SIMAETHA is a Dreambaby cabaret written and performed by their alter-ego Jacob Budenz. SIMAETHA explores the cultural role of the witch as a way of re-mythologizing the self. The performance becomes part ritual, part cabaret arising from memories real and conjured - childhood escapades with a family ghost, conversations with luckless tiny-town maidens, summonings of the demon of lust - that Budenz weaves together with poems, stories, spells, found songs with original arrangements, and borrowed rituals.
Emily Hall - March 10th - 11th, 9PM | March 12, 2PM
DAD JOKES is the second Knee Play of the Annex Theater season. Emily Hall was most recently seen in Stupid Ghost at Annex Theater and directed the sold-out run of Cook/Thief/Wife/Lover for Annex in 2014.
Evan Moritz* - May 4th - 6th
Lucia Treasure* - May 4th - 6th
(Previous featured performers: Dionna Fletcher, Mason Ross, Trevor Wilhelms*, Cricket Arrison)
THE KING OF HOWARD STREET
By Ren Pepitone*
Adapted from the journals of Anthony Williams
World Premiere | Directed by Roz Cauthen
May 18 - June 4
Anthony, in his sixties and native to Baltimore, is determined to make a better life for himself. He's seeing a therapist, kicked drugs, and applied for Section 8 housing. For now he's squatting downtown, and trying to take care of himself, the abandoned building, and a coterie of friends who depend on him. In the face of poverty, addiction, abuse, gang violence, city mismanagement, and the biggest snowfall on record, Anthony shoulders the weight of his friends' survival. Told through first-hand accounts interwoven with myth and history, urban and magical realism, tragedy and absurdity, Anthony advocates for himself and the Baltimore homeless community-knowing all the while that not everybody makes it.
2015 - 2016
Insurrection: Holding History (2015)*
Impassioned Embraces (2015)
Flatland (2016)
Minotaur (2016)
The Master and Margarita (2016)
Lord of the Flies (2016)
Knee Plays
Dionna Fletcher - Double Consciousness
Mason Ross - On Failure
2014 - 2015
The Cook, the Thief, His Wife, and Her Lover (2014)*
Mary Hartman, Mary Hartman (2015)
Oh Dad, Poor Dad, Mamma's Hung You in the Closet and I'm Feelin' So Sad (2015)
The Magic Flute (2015)
The World is Round (2015)*
Ten Minute Play Festival in partnership with Le Mondo (2015)
Knee Plays
Cricket Arrison - Make Yourself at Home*
2013 - 2014 
Two Suns Over Thebes (2013)*
The Left Hand of Darkness (2013)
The Golden Spike (2014)
Taking Tiger Mountain By Strategy (2014)
Marat/Sade (2014)*
Knee Plays
Trevor Wilhelms - LBQ
Trevor Wilhelms - 6000 Things I Would Do if You Died Before Me
2012 - 2013

Salome (2012)
Ubik (2012)
Equus (2013)
Macbeth (2013)
Argonne (2013)
10 Minute Play Festival in partnership with Artscape (2013)
2011 - 2012
Three Penny Opera (2011)
Wedding on the Eiffel Tower (2011)
Twilight Zone Play Festival (2012)
YouTube Play Festival (2012)

2008 - 2010*
A Baltimore Love Thing (2008)
Rhinocerus (2008)
Hanna-Barbera Play Festival (2008)*
Beowulf (2009)
Dr. Faustus (2009)
Matsukaze (2009)
Robin Hood (2009)
Wrath of Khan (2009)*
The Point (2009)*
The Reception (2009)
The Written Word (2009)
Fantastic Planet (2010)
Dark World's Destruction (2010)
A Fistful of Flowers (2010)
*Best Of awards in Baltimore City Paper and Baltimore Sun including multiple Top 5 Plays of the Year, Best Play of the Year, Best Short Play, Best Trend - DIY Theater, Best Director, and Best Use of Music in a Play